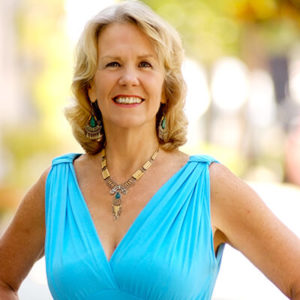 Anodea Judith Ph.D. has been called a "prophet for our time." A globally recognized teacher, speaker, healer, and writer on the intersection of personal and collective awakening, her passion for the realization of our potential matches her concern for humanity's impending crises—her fervent wish that we "wake up in time."
She holds Master's and Doctoral degrees in Psychology and Health, is a Experienced Registered Yoga Teacher (500 hour E-RYT), and therapist with lifelong studies in somatic psychology, mythology, history, sociology, systems theory, and mystic spirituality.
She is best known for her groundbreaking work reviving the chakra system of ancient yoga, and its profound correlation to human psychology, cultural evolution, and the downward process of manifestation.
Her best-selling books have gained worldwide recognition with over a million books in print in 25 languages, and won several awards.
She is a well-loved workshop presenter, whose exhilarating live workshops are not only informative but life-changing, with trainings for therapists, yoga teachers, and leaders, with transformative techniques for those on the path of awakening. She is also a global presenter in online workshops and summits.
A riveting keynote inspirational speaker, her pictorial animated powerpoints are like movies, with messages that bring hope without mincing words about the challenges of our times.
Her central vision is that our evolutionary challenge is learn how to create Heaven on Earth.  This will, of course, take a miracle, but she believes that is the initiatory challenge of humans learning to wield the power of gods.
And finally Anodea Judith is a musician, artist, poet, avid gardener, priestess, mother, and grandmother, whose pioneering work has changed lives and is working toward changing the world.
Save