03augalldayPsychology of the Chakras at Kripalu Yoga Center!Kripalu Yoga Center, 57 Interlaken Road, Stockbridge, MA 01262
Event Details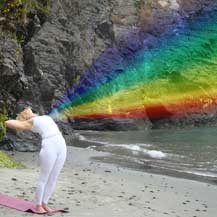 Sacred Center's Core Course!
Intermediate 7-Day Chakra Intensive
This training integrates both mind and body within a spiritual context by exploring the inner psychology of the Chakra System as a model for transformational healing and personal growth. Designed for healers of all types who wish to learn new skills, as well as laypeople in the process of their own healing journey, we will spend one full day on each chakra level, making a total of 7 days of training, with an evening introduction and Sunday morning wrap-up.
Each morning will include guided trance journeys, yoga asanas for opening the chakras, bioenergetic exercises, and partner work for integrating your process. The afternoon sessions take the work to a deeper level with psychological exploration, therapeutic demonstrations, and group process, giving participants a chance to work on their own issues, and to practice these techniques with each other. Two evening ceremonies take you deeper into the realm of the sacred.
WHAT YOU WILL GAIN:
A solid understanding of the chakra system
A psycho-spiritual framework for diagnosis and healing
Yoga practices for each chakra
Bioenergetic exercises for the lower chakras
Body-oriented techniques for healing difficulties
An understanding of chakras and childhood development
A deeper understanding of your own issues
A transformational experience
Professionals will find new skills to use in their practice, laypeople will find new insights to their own healing journey.

Now in its 31st year! Students have found it to be life-changing. Be prepared to grow!
Here is what recent students had to say about the class:
I love beautiful ideas and you integrate such a deep and conscientous scholarship with such obvious empathic awareness. I have learned much that I know will be of benefit to my clients, but what is more important to me now is the way this experience has entered the deepest part of me.
My expectations of the Chakra Awakening workshop- The unknown was filled in…the information was allowed to be infused in the cells of my body through the processes, the asanas and the body movements. How did I benefit? The amazing people who joined together and came, opened, willing, shared, experienced this work. This wholeness system…exploration, evaluation, sensing, integrating. Thank you not only for the information, thank you for holding the container for us, the safety you provided for us to grow love. Thank you for the amazing people you attract!
Anodea's workshop on the Psychology of the Chakras was unlike anything I could have ever imagined. She took us on a wild journey across the rainbow bridge of the chakras, down to the depths of our souls, and up to the furthest reaches of our consciousness. The workshop was both informative and enlightening. We practiced yoga on and off the mat- and did everything from dance, to chant, to trance and back again. Anodea is clearly a genius in her field, and her friendly, passionate way of teaching the chakras makes learning about them even more interesting. Thanks for the fun, learning, and help!
---
SAVE THE DATE! Registration information coming soon!!
Time

august 3 (Friday) - 10 (Friday)
Organizer
Kripalu Yoga Centerregistration@kripalu.org 1-800-741-7353