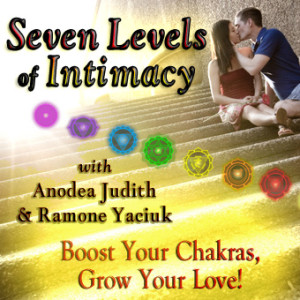 Tune in to this FREE call as chakra expert, Anodea Judith joins forces with Ramone Yaciuk to share ways of Boosting your chakras, and growing your love! You know you have energy centers that influence your health and well-being. You know you have relationships with others, and that they also have chakras. But do you know what happens when you put them together?
Join us for a free call exploring the topic of Chakras and Relationship. How can you use the chakra model to expand your capacity for intimacy, better communication, greater pleasure, empathy and bonding? How do you see eye to eye, share common ground, resolve power issues?
Whether you're single, dating, or in a committed relationship, there's a whole new territory that is born when we interact with another person. Find out how to enhance all your interactions with this free call.
Ramone's training in communication coupled with Anodea's 40 years experience with the chakras make this call a potent force for the betterment of your relationships.
Ramone is a communication coach, professional speaker, and the author of Enjoy the Hell Out of Your Life, and Anodea is the author of several bestselling books on the chakras, including Eastern Body, Western Mind and Wheels of Life.
Once you sign, up the recording will be available for download.