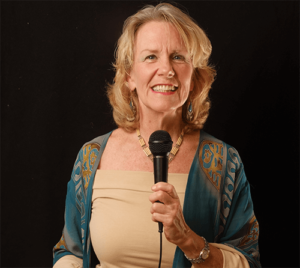 Dr. Anodea Judith is a dynamic speaker and workshop leader who touches your heart and holds it in eloquent metaphors from beginning to end. Whether it's about healing the human the soul, awakening the life force, creating your life on purpose, or addressing the world situation, her talks and pictorial power points bring the entire audience into a deep realm of being and purpose and leave them inspired to make change.
In short, she takes you into the realm of the sacred, for indeed, the sacred is at the center of Anodea's purpose, and the center of everything she does.
"Everywhere I go, I see a universal hunger for the sacred – for meaning, purpose, and hope. And to share these sacred moments with others is powerful experience that returns us to reverence for ourselves, each other, and our world."
"Humanity stands poised on the most important cusp of our four billion years of evolution. We can rise to a new level of consciousness and forge a vital path to the future, or face a crisis of epidemic proportions. The choice is ours, for everything we do today will effect many generations into the future."
There is no greater purpose right now than to use the gifts our ancestors fought for: the gifts of the roads, the airports, the internet and media, to inspire and motivate humanity with the possibility of creating heaven on earth.